Description

Technical features

Composition: 100% silicone, guaranteed free from BPA and phthalates
Care: all the parts in the FIRST'ISY mealtime kit are dishwasher-proof or can be hand-washed
Dimensions:
- bowl: 16 cm x 11.7 cm x 5.5 cm
- bib: 21 x 15 cm (collar 10 cm)
- spoon: 9 cm long x 4.8 high (tip: 2.1 x 2.5 cm)
Eat easy with the new Eats ISY mealtime range
• To support fine motor skills at every stage from 6 months – Accepting new foods, tastes and textures is an important phase in your child's development from the age of 4 months. As parents, introducing your baby to a diversity of flavours and teaching them how to feed safely and independently is something we all want to encourage at the weaning stage. And because each stage is important, using the best mealtime accessories adapted to their age and capability makes these new discoveries that much easier and enjoyable for them.
• Co-created specifically with child-care professionals – As experts in weaning and feeding for baby for over 20 years, Babymoov has worked with childcare professionals (occupational therapist, paediatricians and nutritionists) to develop the Eats ISY range – age-adapted mealtime accessories ergonomically designed to meet your baby's needs. 100% silicone and age specific, Eats ISY will help your child through all the stages of weaning and becoming independent.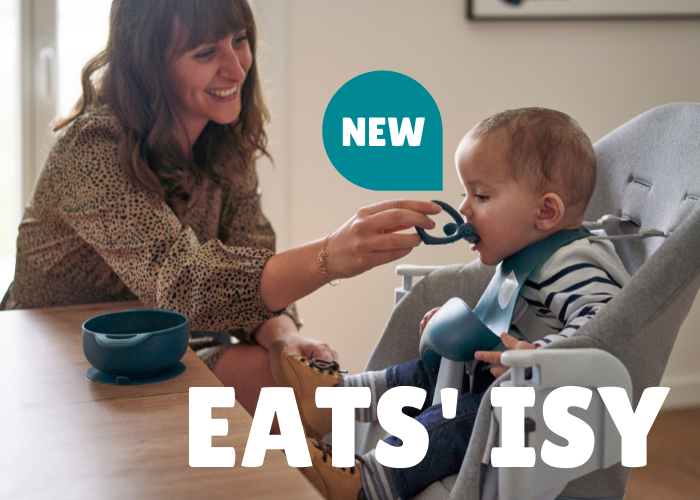 Age-adapted ergonomic 3-piece weaning set
• 1 Ergonomic easy-grip weaning spoon with built-in teether – The First ISY weaning set features a unique small ergonomic weaning spoon for little fingers and small mouths. The spoon also features a loop easy-grip handle which doubles up as a safe teething ring for baby. Unique curved arms at the base of the spoon were added to stop baby's hand from slipping over the spoon end to ensure a better and easier grip of the spoon
• 1 silicone baby bowl with strong suction pad to secure to your table or highchair – No need to worry about spillages or food being knocked over thanks to the strong suction silicone bowl in this silicone weaning set. The bowl is secured to the table to eliminate mess and aid your baby to explore first purees and softened fruit and veg with the use of the weaning spoon. A soft, flexible and smooth silicone surface makes the bowl and set very easy to clean by hand or in the dishwasher.
• 1 silicone pocket bib with adjustable neck fastening – Babymoov's First ISY weaning set for 6-12 months includes a soft silicone pocket bib for easy cleaning up of baby and the floor after mealtime. The pocket style 'crumb catcher' bib will also minimise waste by catching any food that baby has dropped. Simply wipe clean or empty out and pop in the dishwasher. The Babymoov pocket bib features a cute fox or dog character print.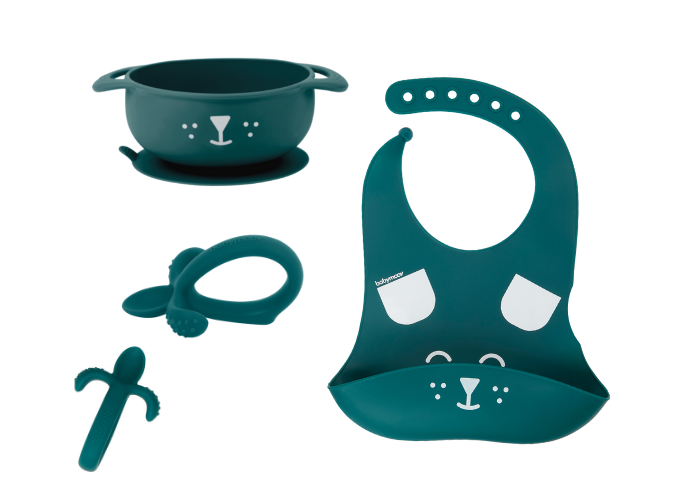 Why you will love the First ISY Weaning Set
Complete mealtime kit – bowl, spoon and bib set
Perfectly designed for babies aged 6 to 12 months
To aid development of their fine motor skills and feeding independence from a young age
Unique 2 in 1 teether spoon with ergonomic safety handle
The perfect spoon for little mouths, made from soft, supple silicone for your baby's sensitive gums
Hardwearing silicone bowl with a non-slip suction pad
Suction pad on the bowl has a small tab making it easier to detach it from the table or tray
Food catcher bib for less mess at mealtimes and adjustable fastening around their neck
100% high quality silicone weaning set – strong, durable, lightweight, BPA Free
All the pieces in the set are dishwasher-proof or can be hand-washed
The bowl is oven-proof and can be used in the microwave
2 colours available – blue dog and blush fox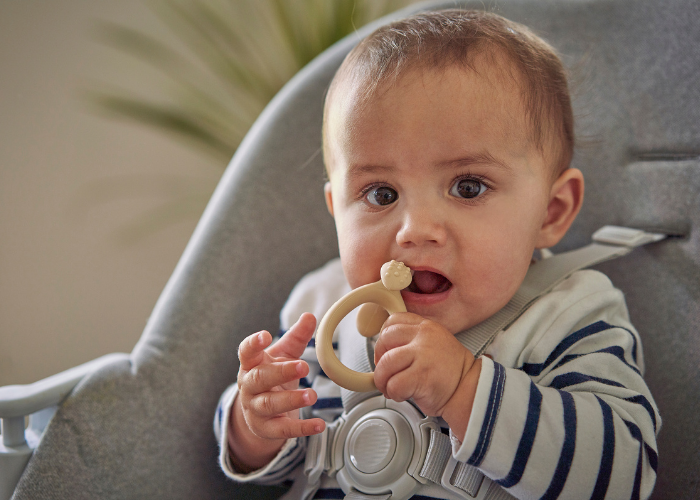 Discover the Eats ISY silicone range
The Eats ISY range include 4 mealtime sets for different stages and ages plus individual accessories
First ISY (6-12 months) suction bowl, spoon and bib Taste ISY (12-24 months) suction bowl and spoon Learn ISY (12-24 months) COMING SOON Grow ISY (12-36 months) suction plate, beaker and spoons Eats ISY suction plate dog Eats ISY suction plate fox Eats ISY Fox Food Flask Eats ISY silicone sippy cup COMING SOON Eats ISY silicone bibs twin pack