Description

Technical features

Emission power: 2.99 mW**
Frequency: 865 MHz

3x AAA Batteries or mains operated (adapters included).

Easy Care baby monitor
The Easy Care baby monitor provides clear sound with zero interference, a voice activation mode and both audio and visual alarms. Our Digital Green Technology means Easy Care has low emission power levels, maximising baby's safety around the clock.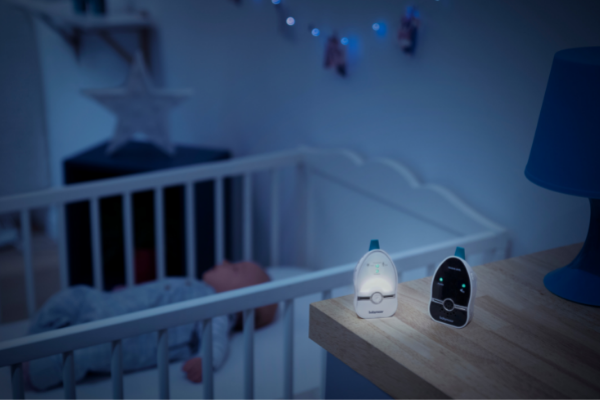 Digital Green Technology
At Babymoov, we're always innovating to meet the needs and expectations of parents. The creation of a brand new technology, Digital Green Technology, combines the performance of digital technology (clear sound, zero interference) with the safety of** low-emission power levels**.
The Premium Care is one of the first baby monitors with low electromagnetic emissions using Digital Green Technology, making it one of the safest on the market. The modern day home is filled with electromagnetic radiation: every electrical device produces electromagnetic fields (EMF). Studies have shown that babies absorb 60% more of these electromagnetic waves than adults. Parents may inadvertently be putting their infant at risk by increasing exposure to EMFs in their bedroom, especially if they use Digital Enhanced Cordless Telecommunication (DECT) baby monitors, mobile phones, digital clocks, and wifi around their baby. Research into the effects of EMF exposure have resulted in conclusive evidence that even moderate levels can cause biological stress, whilst prolonged exposure can have more serious effects upon the immune system.
The Premium Care baby monitor emits up to 33x less electromagnetic waves than some monitors, ensuring it is safe for use around little ones.