Description

Technical features
Composition: Outer and lining: 100% polyester
Composition Covering: 100% PVC
Composition insulated pouch: 100% PET
Composition Insulated pouch lining: 100% PEVA
Composition Changing mat: 100% polyester
Weight: 0.89 kg
Dimensions: 30 x 18 x 38 cm
Care: Hand wash only


Babymoov Essential Backpack: Large-capacity, water-repellent fabric, changing mat and more!
With a large 17-litre capacity and a variety of tailored storage pockets, the Babymoov Essential changing backpack combines comfort with practicality. This changing bag contains several inside pockets for organising all your baby's changing essentials, as well as a zipped pocket for parents to keep their keys, phone safe.
At the front of the bag Essential bag has a sizable inslulated pocket for storing bottles and food at temperature. On the outside, a stretchy mesh pocket for a water bottle or beaker is within quick reach for you or baby. Thick shoulder straps ensure the bag weight (whether full or lightly packed) is evenly distributed for comfortable wearing throughout the day. Water-repellent fabric ensure protection in wet weather. Essential Backpack has a 180° suitcase-style opening, making it very easy to fill with easy access to changing essentials. No more rummaging for a dummy or wipes at the bottom of the bag! Really practical to take anywhere with you, the Essential Backpack also has slots on the back so that it slides easily onto a telescopic suitcase handle.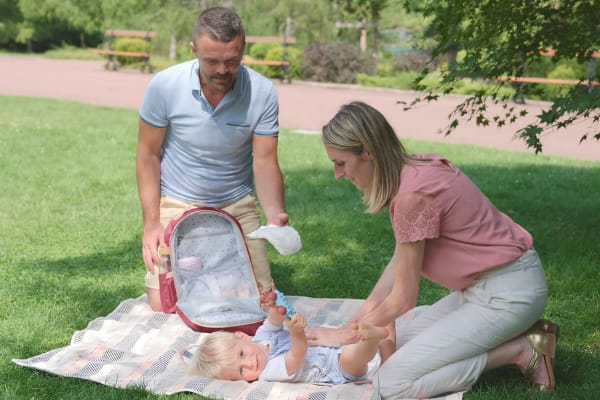 Why you will love the Essential Backpack
PERFECT CAPACITY FOR EVERY DAY USE: total capacity of 17 litres, this changing backpack is the ideal size LARGE OPENING: 180° zip opening, similar to a suitcase MULTI-POCKETS: several inside pockets including one zipped pocket for your own belongings such as phone, keys, purse, wallet etc. On the outside, there is a stretchy pocket and a large insulated pocket accessible via the front of the bag. PRACTICAL: Simple slots in the padding on the back of the bag enables this bag to slide onto a telescopic suitcase handle for freeing up your hands while travelling. 2 pushchair clips and a changing mat included COMFORTABLE WEARING: Padded back and ergonomic carry straps QUALITY & DURABLE: Modern, minimal aesthetic with faux leather offers a stylish mix of fabrics/textures. Also made with water-repellent fabric to stand up to all weathers.