Description

Technical features
Wattage: 1.25 mW
Frequency: 2.4 GHz
Transmitter: mains power supply (jack cable included) or 3 x AAA batteries (not included)
Receiver: rechargeable lithium battery (jack cable included)
Featuring "Sleep technology" Improved VOX mode
**The Sleep technology function can be activated and deactivated from the baby unit. If you activate it, there is a sound or light alert if your baby makes a noise. Sleep technology mode enables you to save energy whilst extending the battery life of the parent unit.
In addition, while this mode is activated your baby will not be exposed to any wave emissions during their sleep, giving you peace of mind.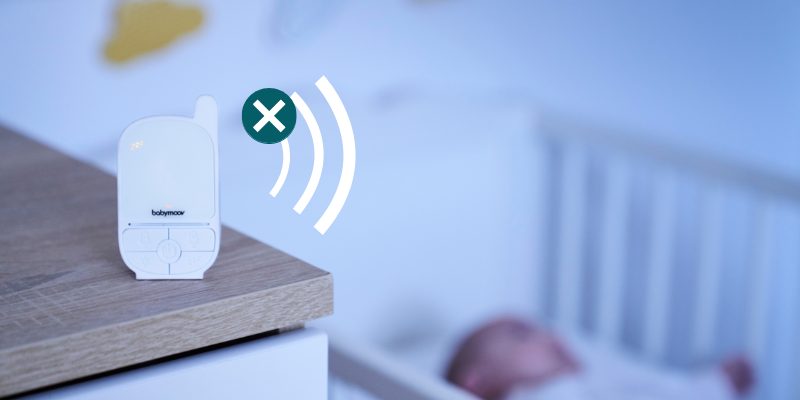 Additional features you will love
The Walkie-Talkie mode on the Handy Care baby monitor means you can talk to your baby from your parent unit. This function is reassuring for you as well as for your baby, who can hear your voice from their cot.
This baby monitor also has a nightlight in the shape of a moon. It emits a soft and soothing light in your baby's nursery.
Finally, the Handy Care baby monitor clips easily onto your belt so you can take it anywhere with you for visits to grandparents, on holiday etc. Its compact size means it takes up little space in your changing bag.
You'll love the Handy Care baby monitor with its Sleep technology, ultra practical functions and ease of use. Not forgetting its unique design, neutral colour pallette and soft edges to suit an ambient nursery setting.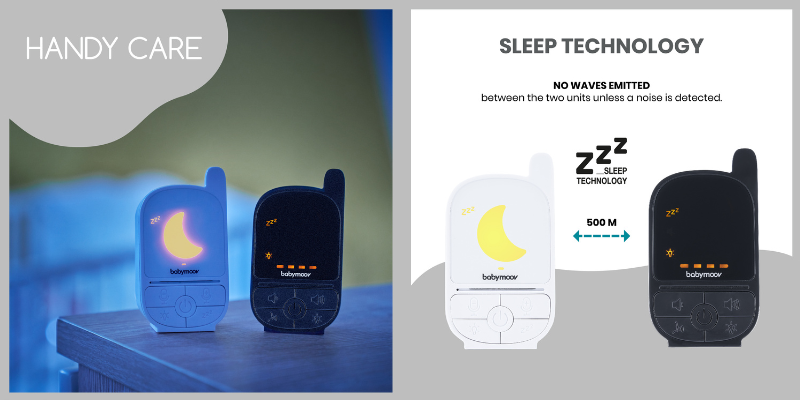 Babymoov cares for future generations
Protecting your baby from waves: The baby monitors (baby and parent units) communicate using a system of electromagnetic waves. Because you can't put a price on health, Babymoov uses "Sleep" technology to reduce wave emissions in your baby's nursery. This protects little ones from radio frequencies that may have 'possible effects on children's cognitive function and well-being*'. Exposure to radio frequencies and children's health - A review by the French Agency for Food, Environmental and Occupational Health & Safety (Anses) - Collective expertise report - June 2016. This innovative and caring technology is used to protect your baby with maximum safety, without affecting the listening quality of the baby monitor.
Protecting our planet: Babymoov is committed to reducing the use of plastics. This is why the new Babymoov audio baby monitors are supplied with two jack cables (without a wall charger) Both units can be used with a USB port, the same as on your mobile phone charger. This makes it really practical, with no need to juggle lots of different chargers. As an added bonus, the packaging for this new audio baby monitor is made from 100% recyclable cardboard.