Description

Technical features

The right heating temperature for baby bottles
The ideal heating temperature for baby bottles is that which approaches the temperature of breast milk, i.e. around 37°.
With the Milky Now bottle preparer, easily set the desired temperature via the touch screen and heat the water in the bottle in less than 1 minute*. And no need to measure what you pour: it can dispense 60 ml** automatically.
*Tested with 300 ml of water at room temperature at 20°C **A tolerance must be taken into account related to the product and the containers used
A bottle ready at any time
The Milky Now has a large capacity of 1.1L, thanks to its " keep water warm " function, you can prepare a bottle of milk whenever you want! Day, night? The water will always be at the right temperature, regardless of mealtime. It can also be used for mom or dad's hot drinks.
Pure water thanks to the 100°C function!
The "100°C" function will allow you to heat the water strong enough to eliminate any potential bacteria and guarantee its cleanliness. Thanks to its integrated cooling system, all you have to do is wait a few minutes for the water to return to the temperature initially desired.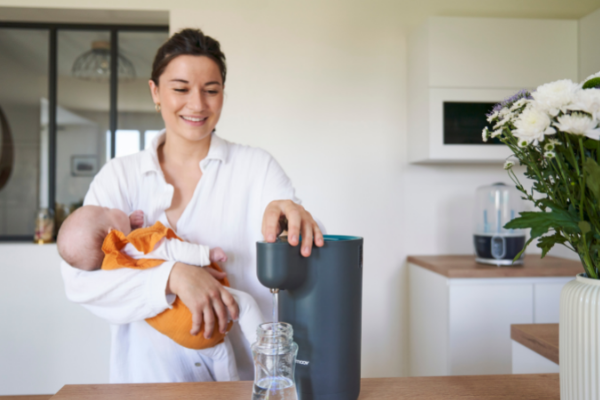 Easy to maintain
Milky Now is also easy to maintain, its stainless steel water tank allows for maximum hygiene. Its "CLEAN" function makes it easy to clean all the water circuits. For optimal cleanliness, you can add a few drops of lemon juice to the water before pressing the "CLEAN" button 2 to 3 times ;)