Description

Technical features
Composition: Polypropylene, SAN, ABS, Tritan BPA free
Maintenance: All components, except the electrical part, are dishwasher safe
Power: 500W
Video
With 4 in 1 essential functions, Nutribaby ONE allows healthy meals, finger foods and purees to be prepared easily, quickly and at capacity - perfect for batch-cooking ahead of the week. Once prepared, meals can be eaten fresh, or stored away in the fridge or freezer and easily defrosted and reheated too with Nutribaby ONE. Use the correct quantity of water and start the function of your choice by one-button selection, using the central control button. Set your steamer timer to desired cooking time.
Nutribaby One multi-purpose food processor has a large total capacity of 2,000 ml (1,300 ml for cooking and 700 ml for blending). You can also cook and blend simultaneously if you are preparing two different ingredients or meals. The cooking bowl can be divided into 2 levels using the steamer basket, enabling you to cook a larger variety of foods at the same time.
Cook additional ingredients within the cooking vessel: Add pasta, grains, other pulses or oats for porridge into the cooking vessel in the base of the steamer along with water to cover.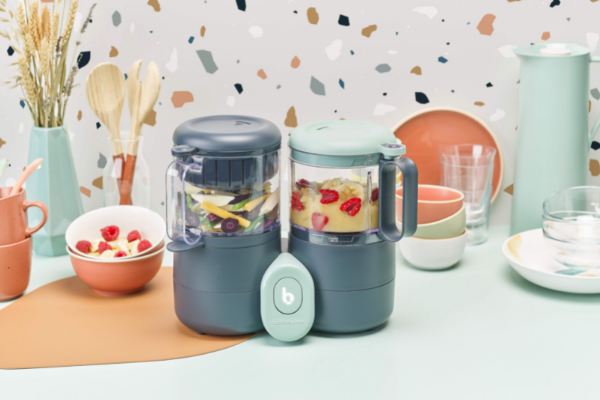 Nutribaby ONE benefits
Thanks to it's large 2L capacity multiple meals for baby can be batch cooked or use to prepare whole family meals too
It's new improved central control panel offers easy one-button, one-function selection.
Nutribaby ONE is the only baby food prep machine on the market which has the ability to cook grains, pulses and oats also thanks to the cooking vessel in the steamer base - meaning whole meals can literaly be prepared in Nutribaby ONE!
The ability to steam cook and blend within one cooking unit means you can easily prepare one ingredient as a soft finger food and also as a purees. Offering both to baby from the early stages of weaning is a great way to get them exploring their food in various textures and forms and for developing co-ordination, speech and healthy eating habits as they grow up.
Nutrient packed cooking juices from the cooking vessel can be used to adjust the texture of your purees depending on your baby's age, as well as adding optimal flavour and nutrients back in.
Nutribaby ONE is highly practical for easy cleaning! All the components, except the electrical parts, are removable and dishwasher-safe!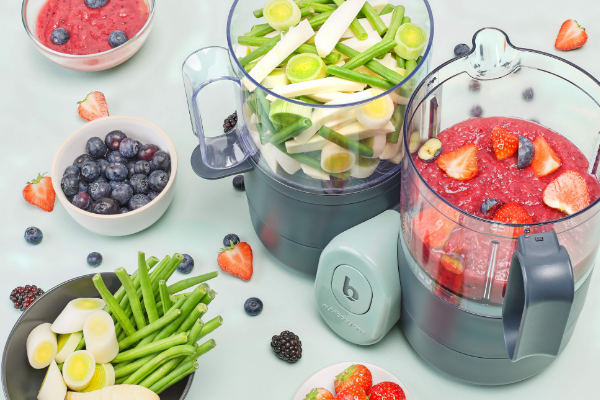 For babies/families with allergies
Thanks to Nutribaby ONE healthy meals can be prepared easily from scratch giving parents the ability to know exactly what is going into their food in place of ready made food jars and meals. Nutribaby ONE supports the combination of spoon-fed and baby-led weaning thanks to the combination of steamer and blender functions.
Despite the name, the Nutribaby ONE is not just for baby! The longevity of Nutribaby ONE spans right the way from pregnancy through to newborn, weaning and beyond .
PRE-BIRTH: Steam cook nutritious meals for consumption during pregnancy
POST BIRTH: Heat and sterilise bottles easily thanks to the large capacity steam unit
BABY'S FIRST FLAVOURS : From 4 months onwards, you can begin to introduce new flavours and textures. Gently steam veg for baby-led weaning or blend into purees
FAMILY MEALS: Easily prepare a whole family meal at once to include everyone at the table. This encourages baby to eat a well balanced diet and to develop a healthy attitude towards dinner time and eating.