Description

Technical features
Nutribaby(+):
Mixing bowl and cooking basket in Tritan (BPA free)
PP Trays and Lids (BPA Free)
Baskets, bowls and accessories are dishwasher safe
Heating: 230V / 500W
Mixing: 230V / 3 speeds
Product dimensions: 38 x 28 x 22 cm
Foodii Kit :
Foodii™ Water Bottles: LDPE, HDPE, PET
Composition Spoon Squeeze™: Silicone + Polypropylene (cap)
Composition Snack Spout™ screwed tip: Silicone + Polypropylene (cap)
Video
(+) Complete baby food processor: 5 functions in 1!
Truly versatile, the Nutribaby(+) food processor allows you to:
Steaming
Mixer
Heat
Sterilize your bottles
Thaw
Thanks to its 2 separate baskets, it ensures perfect steam cooking of food, at the right time, while preserving flavors and vitamins.
Its 3 mixing speeds associated with the cooking juice collector allow you to adjust the desired texture, to offer baby the best purees.
The Nutribaby(+) offers the largest capacity on the market so you can prepare several baby meals at the same time or treat the whole family to good, healthy and tasty meals.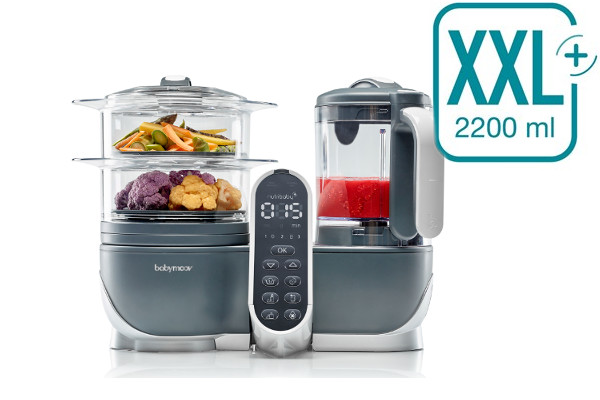 Included in the pack: 10 Foodii water bottles
Easily fill the Foodii pouches with mashed potatoes or homemade compotes and store them in the fridge or freezer. Practical, you always have a little homemade dish available! THEFoodii™ water bottlesare rewritable on the bottle or on the cap to note the recipes kept and the date of production. Their leak-proof cap guarantees safe storage and transport.