Description

Technical features
• Composition: silicone, guaranteed free from BPA and phthalates
• Care: the bowl and spoon are dishwasher-proof or can be hand-washed
• Dimensions: - bowl: 16.3 x 12 x 5.3 cm - spoon: 14.2 x 2.1 cm
Part of the Eats ISY weaning and mealtime range
• Tailored to every development stage from 6 months onwards – The Taste ISY weaning set is part of the Eats ISY range, which has been designed to support children in developing motor skills and becoming independent from 6 months. Tailored to the 12-24 month stage, this silicone weaning set will help you introduce your baby to a range of new flavours as well and mastering independent eating.
• Co-created with an occupational therapist – We've worked with childcare experts to develop every item in the Eats ISY range, including our suction bowl and spoon weaning set. It's age-adapted for 12-24 month old babies. It's 100% silicone and ergonomically designed to help your child through weaning, mealtimes and independence.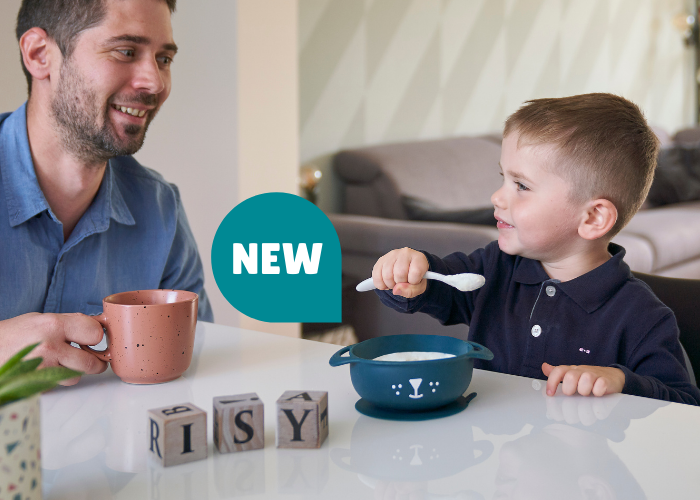 2-piece bowl and spoon weaning set
• 1 silicone baby bowl – With a strong suction pad to secure to your highchair or table, there's no need to worry about food being spilt or knocked over. The Taste ISY weaning set has a bowl that can be secured to the surface to reduce mess while your baby explores their food. The silicone weaning set has a flexible, smooth and soft surface so it can be easily cleaned in the dishwasher or by hand.
• 1 soft silicone weaning spoon – The Taste ISY mealtime set comes with a soft and supple silicone weaning spoon for little fingers and small mouths. It's soft and flexible design makes it suitable for baby's gums or teething babies.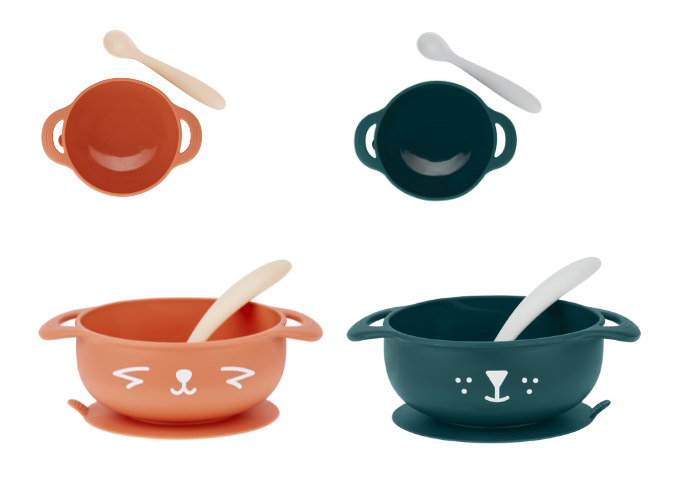 What you'll love about the Taste' ISY bowl 2-piece weaning set
Convenient mealtime and weaning kit – bowl and spoon set
Age adapted for babies aged 12 to 24 months
Assists with the development of fine motor skills and promotes independence when feeding
The spoon is made from soft silicone making it ideal for little mouths, including sensitive gums
Durable silicone bowl featuring a suction pad for non-slip use
A small tab on the bowl's suction pad makes it easier to remove it from the surface
Made from 100% high quality silicone – strong, durable, lightweight and BPA free
Both pieces in the 2-piece weaning set are dishwasher-proof or easy to hand-wash
Oven-proof and microwavable bowl
Choose from 2 colours – blue dog and blush fox