Description

Technical features
Composition: 100% polypropylene, guaranteed BPA-free
Dishwasher safe
The powerful sterilizer
The Babymoov teams and its co-creator parents have developed the Turbo Steam(+). 2 in 1, it sterilizes and turns into a drainer for bottles . In just 6 minutes, you sterilize bottles, teats, caps and even breast pumps. Thanks to its patented technology, the Turbo Steam(+) delivers 95° steam to the heart of your bottles. Bacteria will not resist!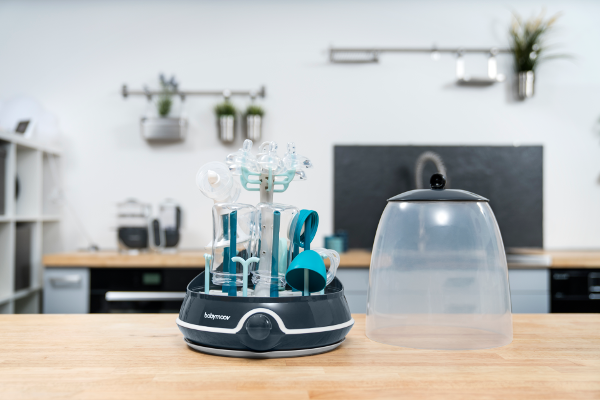 The simple sterilizer
The Turbo Steam sterilizer is very easy to use. You start the sterilization cycle by pressing the central button. When finished, the audible alarm alerts you. The Turbo Steam(+) stops automatically. The easily removable rods allow you to modulate the Turbo Steam(+) according to your needs. It can contain up to 6 bottles but also teats, breast pumps and other accessories suitable for sterilization.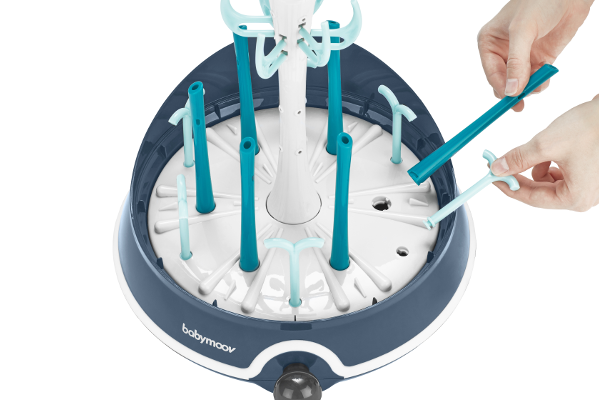 The ingenious sterilizer
The Turbo Steam(+) sterilizer becomes a bottle dryer . Remove the tray from the sterilizer and place it where you want. Your sterilized bottles are neatly stored for air drying!