Description

Technical features
Wattage: 50.11 mW
Frequency: 2.4 GHz
2 adaptors supplied (for receiver and camera)
Rechargeable lithium battery for receiver (adaptor supplied)
Video
Product Support
The intuitive choice,YOO Feel 250m Touchscreen Video Baby Monitor with large screen parent unit and additional features
The "intuitive" choice video baby monitor, YOO-Feel with a 3.5" touch screen receiver is designed for parents who prefer intuitive touchscreen function, easy plug and play set up and reliable 250m range guaranteed. YOO-Feel offers a lullaby function and night light built-in - it's really the ultimate nursery monitor.
Yoo Feel includes a double visual and audible alarm as well as a x2 zoom: just what you need for complete peace of mind!
The design of the YOO-Feel, right down to the choice of materials and finishes, is crafted to complement baby's nursery. With chrome insets, contrasts between matt and shiny surfaces, and splashes of colour, YOO-Feel looks perfect in the modern family home.You can also connect up to 4 cameras to your YOO-Feel, for reassurance from anywhere in the house.
Why you will love YOO Feel:
Intuitive 3.5" touchscreen parent unit 250m range Option to connect up 4 additional cameras to parent unit Offers additional functions, like nightlight, lullabies, VOX mode and talk back High quality image, colour and clear sound Simple to install, simple plug in and go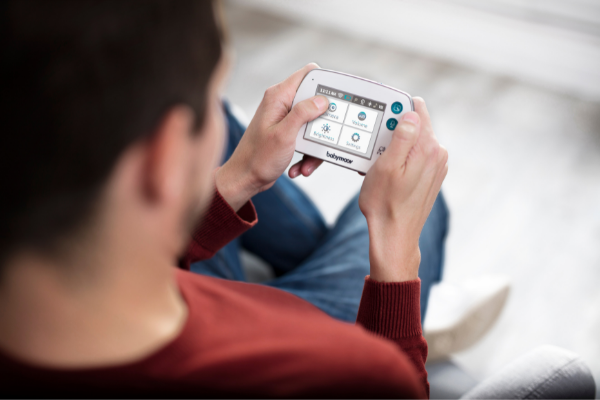 Recently awarded the Longtime Label!
What is the LONGTIME Label ?
**LONGTIME® is the label for products designed to last ** It gives you the assurance that the products carrying the label are reliable and repairable.
For robust objects The LONGTIME® label applies to a wide range of products: It assures that the product is robust, repairable and designed to last.
And for the planet It is also a sign of recognition for manufacturers: it values companies that offer consumer goods with an extended lifespan and quality after-sales service.